Follow our travel bugs on their way around the world:
Together the three comrades are on their journey around the world.
Franzl (TB3EM0K)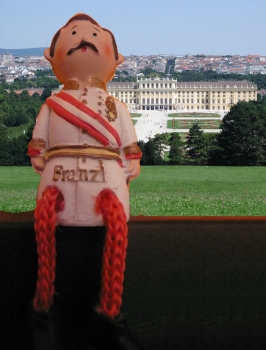 Representing Austria, "Franzl" - named after Franz Josef, the Emperor of Austria, Apostolic King of Hungary, King of Bohemia, King of Croatia, etc. - is back in life and visiting the world as Travel Bug.
Flederschaf (TB3MFM2)
Flederschaf, the friendly vampire living in the Kapuzinergruft, is supporting Franzl on his journey around the world.
Flederschaf
Info Sheet
Travel Map
Amadeus Maestoso (TB3MFKD)
Amadeus Maestoso is a gorgeous white Lipizzaner-stallion who got to know Franzl and Flederschaf during his schooling in Viennas famous Spanish Riding School.